Hofburg Imperial Palace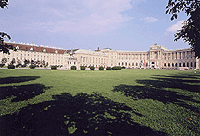 From 24-25 October 2012, the conference will be held in the heart of Vienna at the Hofburg Imperial Palace. Built between the thirteenth and twentieth centuries, the Hofburg Palace was the seat of the Habsburg dynasty—the rulers of the Austro-Hungarian Empire—until 1918. Today, the palace serves as the official residence of the President of Austria as well as housing a major congress center.
Within the Hofburg, IIASA's conference will be held in the hall known as the Redoutensäle, which was built as an opera house in 1705 under Emperor Joseph I. In the festival hall  numerous  "Redoutes" (masked balls) took place, as well as the first performance of Ludwig van Beethoven's 8th Symphony,  concerts conducted by  the composers Josef Strauss and Franz Liszt, and a number of smaller Mozart operas. Following a fire in 1992, the rooms were restored partly in their original design, and partly combined with contemporary art. Furnished with the most modern technical conference equipment, the Redoutensäle were opened again in 1997.
Conference address (24-25 October 2012):
Hofburg Redoutensäle
Josefplatz
1010 Vienna

How to get to the Hofburg